Hello visitor! A note about the contents of this wiki: Barotrauma is a game with several years' worth history as a free-download open source game, and this wiki has been written primarily based on this legacy version. As such, not all content is relevant to the Steam release. So please wait patiently as the contents are updated, and feel free to contribute new information once the Steam version of Barotrauma is released!
Human
Human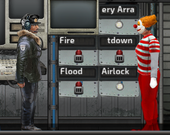 Stats
Health

100

Armor

Determined by equipment

Weakpoints

Determined by equipment

Armored Points

Determined by equipment

Speed
Walking

1.5

Swimming

2.0

Behavior
Aggressive?

Determinant

Can Enter Submarine?

Yes

Sight

1

Hearing

1

Drops
Item(s)

N/A

Chance

N/A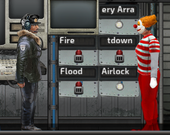 Humans in Barotrauma are unique Creatures that the player can control. They are the player's primary method of interacting with the world. In singleplayer, characters are given a random name, but in multiplayer players can choose their character's name themselves.
Homo sapiens, or known by their common name of human, originate on the planet Earth in the Sol system, the third from Sol itself. Approximately a century into the future, human spacecraft technology has enabled the species to reach Europa, Jupiter's second moon. As is the nature of the human race, extensive colonization efforts have begun on the distant moon, as well as the entirety of the greater Sol system. High levels of radiation on Europa's icy surface has forced the colonists deep beneath the frozen crust, into the hostile waters below, where countless species of predatory creatures, freezing temperatures and the pressure of the environment itself all conspire against the settlers.
AI-controlled humans will wander around the submarine aimlessly, following the pre-determined pathways. This behavior will continue until they are either given a task by the player, or a hull breach is detected nearby. In the latter case, humans will rush to the nearest Diving Mask or Diving Suit and equip it, along with an Oxygen Tank if one is available. This continues until the breach is fixed and the water is drained, at which point they will unequip their items and continue with the previous task, whether it be wandering or completing a task.

As with all editing of Barotrauma's content, editing the player's characters occurs through modifying XML files. Humans are far more customizable than the average creature, having multiple different pre-made head sprites and name options, both of which can be modified at will.